Property Prices in Budapest by Districts
January 30th, 2018
The growing popularity of tourism in Budapest is also reflected in housing prices. Many have invested in properties in recent years, as short-term rentals for visiting tourists have proved to be lucrative investments. The subsequent extreme price increase reached its resting point: at present you may find a property in District 5 at a price of nearly 700 thousand HUF per square meter, in a market of limited possibilities.
Second place was District 1, with a price of nearly 600 thousand per square meters, followed closely by District 2 where the average price for a property is around 550 thousand HUF per square meter. Even a Buda District (12.) and a Pest District (6) are in the forefront, both locations with an average price of above 500 thousand HUF per square meter.
We can choose between one Buda (11.) and three Pest (13, 7, 9) Districts between 400 and 500 thousand HUF per square meter. After these follow the rest of the Districts of Budapest, averaging between 400 and 260 thousand HUF per square meters. At the end of the line are District 20, 21, and 23.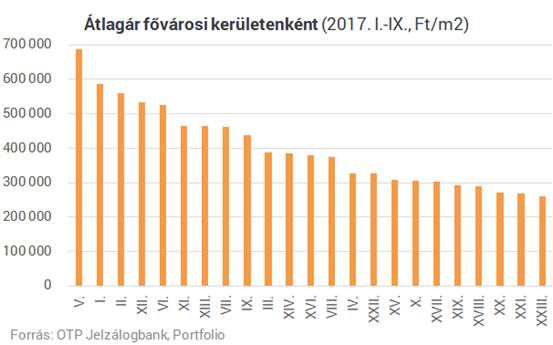 Chart: Average property prices in Budapest by districts
---
back