A 6-Year Real-Estate Record Was Broken
January 9th, 2015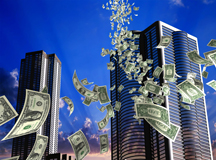 Real estate experts' expectations were met: real estate market managed to pass the "dream threshold" in 2014, which means more than 100 thousand transactions were made. Although the market couldn't reach the numbers of the era before the crisis, a 6-year real-estate record was broken. Passing the threshold and recent tendencies can fill us with optimism: a further increase is expected for 2015. More and more apartments are sold, and price decrease stopped, moreover, prices started to increase, mostly in Budapest and the county seats.
December Was Also a Strong Month
According to the estimation of real estate agency Duna House in the last month of 2014 9855 transactions were realized: this is a remarkable result, since this season is usually weak. December was one of the strongest months of 2014 – in the last month of 2013 only 5768 transactions were realized. Since the beginning of the crisis the last time such a good result was obtained was December 2011, when 9544 apartments were sold.
Larger and More Expensive Apartments Are Also in Demand
A total of 105901 apartments were sold in 2014. In the past 5 years 89 thousand apartments were sold annually on average, which means last year 15 percent more transactions were realized. Moreover, buyers are interested not only in small – one-room or one-and-a-half-room – and cheap – under HUF 20 million – apartments, but in larger and more expensive ones, too. Although prices have only risen in the capital and in county seats, according to the expectations in 2015 apartment prices in smaller cities will increase as well.
Source:http://www.portfolio.hu/ingatlan/lakas/megtort_az_atok_rekordszamu_lakast_adtak_el.1.208465.html
---
back