​Check the New Puskás Stadium that May Be Host for the UEFA Euro 2020
August 6th, 2014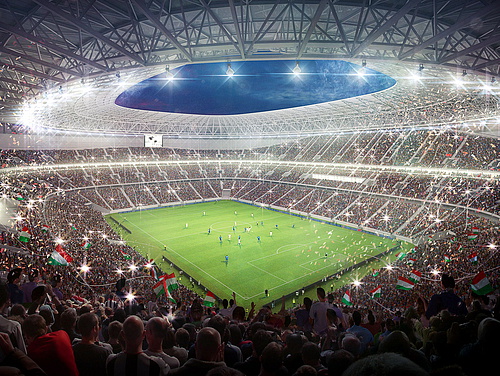 The visuals of the future Puskás Ferenc Stadium have been presented. Building the new 68-thousand-capacity stadium costs HUF 70-100 billion which will be covered by the Hungarian government. The new facility is expected to be ready by 2018, and it will be home for 20 Olympic sports, concerts and other events. The building of the stadium itself costs HUF 60-80 billion, and that of the supplementary buildings costs HUF 10-20 billion.Much More than a Soccer Field
The decision of building a new stadium was made in last spring: a new arena is to be built in the old building, which will make it much more than a soccer field. Plans can be made by the end of 2014, and the construction can begin in 2015. Covering a part of the stadium the facility will host a training center for wrestlers, fencers and judokas.
More World Famous Musicians Can Come to Hungary
In the future multifunctional sports center renowned international soccer games can be organized, Hungarian sportsmen can train in a world class environment, and thanks to the new facility world famous singers are expected to choose Hungary more often when they go on a Central European tour. Besides the sports fields and the training center the stadium will be home for a hotel, an office center, a museum, several restaurants and stores, a gym, an underground garage and a police station.
The New Stadium Could Be Host for the UEFA Euro 2020
With the new stadium the Hungarian Football Federation (MLSZ) applied for the right to be one of the hosts for the UEFA Euro 2020. They also would like to host a UEFA Champions League or a UEFA Europa League final here. According to lead architect György Skardelli several elements of the old building will be kept. You can check here how the future stadium will look like, or you can watch a video as well.
Source:
www.napi.hu
---
back